WE CARE ABOUT YOUR SAFETY!
THE HOTEL IS EQUIPPED WITH A BOMB SHELTER WITH FREE WI-FI AND AMENITIES.
THE NEAREST METRO STATION IS MAIDAN NEZALEZHNOSTI. ACCESS BY OWN TRANSPORT IS AVAILABLE THROUGH STREET. ARCHIT HORODETSKYI AND STREET. OLHYNSKA.

Loyalty program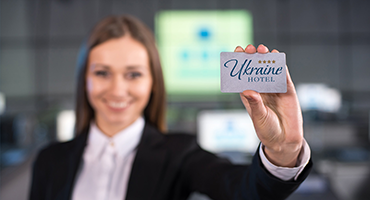 To become a member
Become a member of the Frequent guest program «HOTEL UKRAINE CLUB».
To joing the program you need to
Fill the form
Accumulate the necessary amount of Hryvnia in your personal account at the hotel
Get a loyalty card
Enjoy bonuses and advantages
THE PARTICIPANT OF THE FREQUENT GUEST PROGRAM
CAN GET

THE FOLLOWING

DISCOUNTS
15 000

UAH.

30 000

UAH.

50 000

UAH.
Accomodation
10%
15%
20%
Restaurant and bar services
10%
15%
20%
Business center services
10%
15%
20%
Laundry services
10%
15%
20%
Sauna services
10%
15%
20%
In addition to privileges and discounts You will get the following bonuses
Benefits by

reservation

A free early check-in and late check-out (subject to availability at the Hotel);
Guaranteed parking place
News posting
The discounts are valid for the next booking after collected the necessary amount on their personal account according guest accommodation at the hotel. Taken into account only those reservations, which were made by the guests personally. This offer cannot be used together with other discounts.
We will be glad to welcome you at Hotel Ukraine!
Subscription to special offers and promotions