WE CARE ABOUT YOUR SAFETY!
THE HOTEL IS EQUIPPED WITH A BOMB SHELTER WITH FREE WI-FI AND AMENITIES.
THE NEAREST METRO STATION IS MAIDAN NEZALEZHNOSTI. ACCESS BY OWN TRANSPORT IS AVAILABLE THROUGH STREET. ARCHIT HORODETSKYI AND STREET. OLHYNSKA.
Hotel Ukraine – member of discount program of EBA Favorite Card.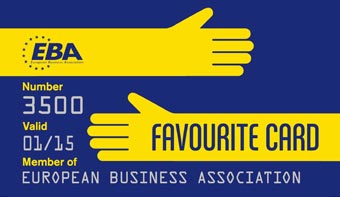 The holder of Favorite Card get discount on Accommodation, Restaurant and bar services, as well as using of conference halls.
Favorite Top Card holder:
Accomodation - 15%
Restaurant and bar - 15%
Conference halls - 15%
Favorite Standard Card holder
Accomodation - 10%
Restaurant and bar - 10%
Conference halls - 10%
This offer cannot be used together with other discounts.
Subscription to special offers and promotions